Problem Set # 1: DNA structure and replication


PDB reference correction and design Dr.chem., Ph.D. Aris Kaksis, Associate Professor


Note: this assignment will not be graded.



DNA Structure



1.

Draw molecular structures for the following compounds.
a) 2'-deoxy

Thymidine

5'-monophosphate
b)

Guanosine


c)

Uridine

5'-diphosphate



2.

Name the following 4 nucleosides and nucleotides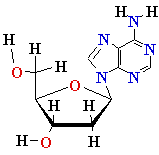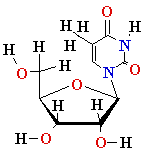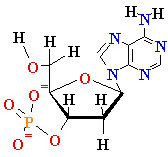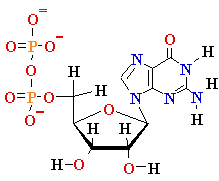 3. Draw a complementary strand for the following two 2 DNA single strand molecules:



5'

A

G

C

T

A

C

T

G

C

A

T

T

C

G

A

A

G

U





5'

G

C

T

T

A

G G

C

T

A

C

T

G

A

A

C

T

G





4. Use arrows to show the bonds cleaved by each of the following enzymes:
a)

3'-exonuclease
b)

5'-exonuclease


A

G

A

C

T

A




|

|

|

|

|

|


5'

|\

O

-P

O

|\

O

-P-

O

|\

O

-P-

O

|\

O

-P-

O

|\

O

-P-

O

|\

-

O

-

H

3'


H

O

-

\|

\|

\|

\|

\|

\|





5. How many fragments of DNA are produced by the action of the restriction enzyme Taq1 on the following strand of DNA. The recognition sequence of TaqI is

T

C

G

A





5'

A

A

C

T

C

G

A

T

T

C

T

C

G

A

A

C

C

G

A

A

C

|

T

C

G

A

|

T

T

C

|

T

C

G

A

|

A

C

C

G


3'

T

T

G

A

G

C

T

A

A

G

A

G

C

T

T

G

G

C

T

T

G

|

A

G

C

T

|

A

A

G

|

A

G

C

T

|

T

G G

C





6. Which of the following sequences is likely to be a Restriction Endonuclease site E.colli and why ?


G

T

A

T

A

G




G

T

T

A

A

C

G

T T

A

A

C




A

G

G

C

C

T




T

A

A

G

C

C





7. Why is DNA a better means of storing genetic information than RNA ?



8. Predict which of the following DNA duplexes melts at a higher

­

temperature T. Explain why?!
How would the melting temperature T change if [

Mg

2+

] was increased from 0.1 mM to 0.1 M ?



a)

C

GG

A

T

G

C

T

AA

T

T

T

CC

T

AAA

T

C




G

CC

T

A

C

G

A

T

T

A

AA

GG

A

T

T

T

A

G


b)

C

GG

C

T

A

G

C

G

CC

G

C

G

C

T

T

A

C

G




G

CC

G

A

T

C

G

C

GG

C

G

C

G

A A

T

G

C





9. A small portion of thymine nucleo-base can exist as enol tautomer.
How are the

H

-bonding characteristics of

T

affected in its enol form? What nucleo-base is likely to base-pair with the enol form of

T

? What mutation would result?


Thymine

enol tautomerisation equilibrium






2. DNA Synthesis, Damage, and Repair



1. Explain the function of magnesium ions

Mg

2+

in the active site of DNA Pol I .
2. Explain the "end-replication" problem for linear chromosomes. Name the specialized enzyme utilized to synthesize the ends of chromosomes and give a brief description of how it works.
3. AZT (3'-azido-2',3'-di-deoxy-

thymidine

)

is an important drug for the treatment of AIDS. Draw the structure of AZT and explain the mechanism of its action.
4. Name two 2 human diseases caused by defects in different DNA repair pathways.
List (briefly!) the steps in each pathway.
5. Draw a structural diagram of the compound resulting from deamination of 5-methyl cytosine. What is the name of this compound? What nucleobase is likely to basepair with it? What mutation would result?
6. Which of the following repair pathways are capable of repairing the damage resulting from deamination of 5-methyl cytosine:





a. Direct reversal by photolyase
b. Direct reversal by O

6

-methyl-guanine-DNA methyltransferase
c. Mismatch repair
d. Base excision repair
e. Nucleotide excision repair
f. Recombination


7. Draw the replication fork and describe the role of each protein involved in DNA replication in E Coli.
8. How do mismatch repair proteins recognize the newly synthesized DNA strand ?
9. Ganciclovir (see below) is a

guanine

nucleoside analog used in the therapy of cytomegalo-virus and herpes virus infection.


a) Predict ganciclovir mechanism of action (use structures to illustrate your answer)
b) What enzymes are likely to perform ganciclovir conversion to the active form?
Draw the structure of the activated ganciclovir.
10.

O

6

-benzyl

guanine

(

O

6

-Bz-

G

)

is currently in clinical trials for use in antitumor therapy.


It is used in combination with alkylating agents (e.g. nitroso-ureas) and acts by enhancing the effects of


these drugs.
a)

Draw the structure of

O

6

-Bz-

G


b)

Using your knowledge of DNA repair, predict the mechanism of action of

O

6

-Bz-

G

.
c)

Would you expect

O

6

-Bz-

G

to have side effects in normal cells?